FAQ - How Can Catalog-4-ONE Help Me?
---
According to an article in the
Harvard Business Review
, "the performance of many supply chains has never been worse. In some cases, costs have risen to unprecedented levels because of adversarial relations between supply chain partners, as well as dysfunctional industry practices such as an over-reliance on price promotions."
Besides an over-reliance on price promotions, companies are wasting time and money by having various people in different departments order the same supplies from different vendors. There are just too many people trying to do the same thing and using inefficient technology to do it. Adding to the problem are poor communications within the company, lack of automation and control over the ordering process, lack of accountability in spending, insufficient reporting and stubborn habits in general. Whatever the various reasons, the chaos that exists in supply chains is primarily due to the absence of an effective system within which everyone can order, and it is costing companies hundreds of billions annually.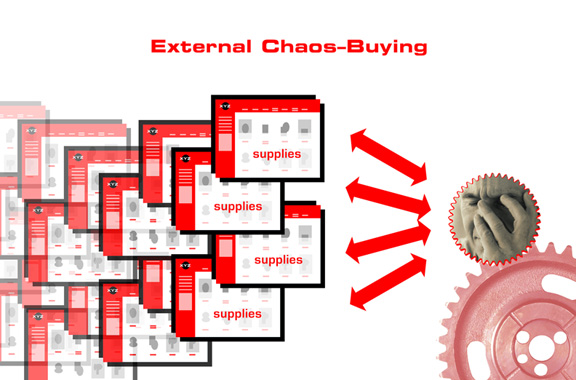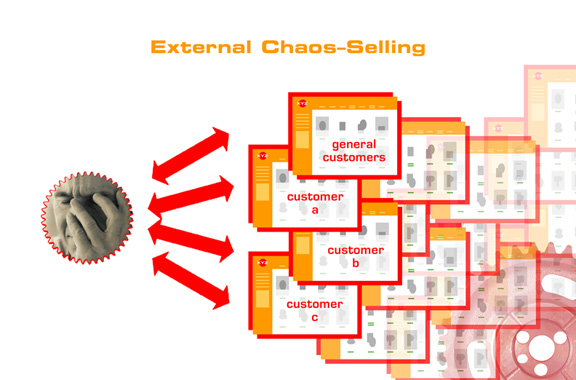 ---
How can order be brought from this chaos?

By a simple, online tool called Catalog-4-ONE. Catalog-4-ONE organizes all your preferred vendors and consumable supplies into a single, customized web site for centralized ordering, as well as user, product, supplier and data management. It automates most of the processes involved in online catalog shopping, saving everyone time and money. It separates the technology that runs your supply channel from the vendors who supply the products, giving you more control. It increases accountability, eliminating maverick spending and waste. And, it increases the visibility of your system through up-to-the-minute reports, affording fresh insight and increased productivity. Catalog-4-ONE will eliminate the chaos in your supply chain by making the ordering process simpler and easier to use.


---
How would that benefit me?
Catalog-4-ONE
simplifies
online catalog shopping by organizing all your preferred vendors and consumable supplies into a single, customized web site. This
online buying environment
will give you one place to go to order everything you need, and it will be right on your desktop. Instead of having to go to your suppliers one-by-one to order, they will all be brought to you in your online marketplace. Instead of looking through thousands of products to find the right one, you will only be presented with choices that reflect your purchasing history. Instead of using many different interfaces to make a purchase, the process will be uniform for all vendors. Best of all, Catalog-4-ONE requires little to no effort on your part. We provide the tool and the experienced team to do the job.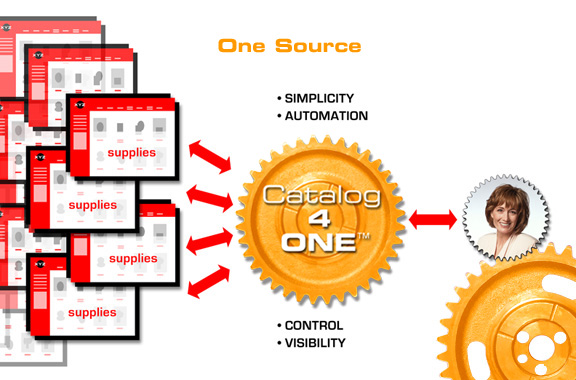 ---
What else can Catalog-4-ONE do for me?
Going hand in hand with simplification for saving time and money is
automation
. Catalog-4-ONE automates most processes involved in online catalog shopping, including order requisitions, requests for approval, e-mail confirmations, status reports and inventory levels. A bi-product is the elimination of paper invoices, paper requisition forms and all the other paper trails you've created in the past. Everything is done electronically and instantaneously.
Catalog-4-ONE interconnects your data systems, streamlining the flow of information from one system to the next. It interconnects Accounting with Operations, updates Warehouse inventory and order information, punches out to various procurement systems, and performs other operations.

Catalog-4-ONE gives you more control over the procurement process by separating the technology that runs your supply channel from the vendors who supply the products. This allows you to change your vendors without changing your system. Eliminating the varying and often incompatible technologies of multiple vendors also eliminates varying interfaces. Both interface and process are uniform for all suppliers.
Catalog-4-ONE allows you to set authorization, viewing and pricing filters that control what users see and access, as well as their spending levels and budgets. By establishing and setting these controls, you will be able to curb maverick spending, reduce errors and avoid costly mistakes. Industry studies have shown that companies with spending controls in place save as much as 15% on their total budgets.


---
What will Catalog-4-ONE do for my communications?
Catalog-4-ONE is not only an online buying environment, it's a state-of-the-art communication center. It increases the visibility of your system by showing the entire supply chain in a single view. Not only will you be able to communicate more effectively with your vendors, you'll be able to interconnect all the people, systems and data in your supply chain. Information will flow like greased lightning. Vendors will be able to update information automatically, so everything is current. Automatically generated emails will notify the people in your system when changes occur. You'll be able to track, measure and improve the way you spend money, as well as how resources move through your system.
Through all its many processes and features, Catalog-4-ONE will save you time and money in online catalog shopping, and end the chaos that may be plaguing your supply chain. By simplifying, automating, and increasing the control and visibility of your system, Catalog-4-ONE will increase its effectiveness and eliminate the waste.


---
Who the heck is CoreXpand?
We're specialists in growing businesses on line. We help them connect people, systems and data in a way that eliminates complexities and chaos from the world of buying and selling. We provide adaptable e-commerce tools and solutions that help businesses communicate better and transact orders with far less effort, resulting in increased profitability.
Before starting CoreXpand in 1999 in Atlanta, GA, we were wholesale distributors selling promotional products. So, we understand your needs and feel your pain. We developed our software to solve our own problems; but now we'd like to share it, plus our expertise, with other buyers and wholesalers, so they don't have to go through what we have. You can learn and save from our mistakes and expense!
Buying and selling don't have to be painful. On the contrary, business should be fun!
---
How can I get started?
To get started with Catalog-4-ONE, call our sales department at
1-800-226-0834
, or e-mail
bizdev@corexpand.com
. Call today for a free webinar by one of our experienced business analysts. If you're ready to end the waste in your supply chain and put that money back into your business, you're ready for Catalog-4-ONE.
Previous
•
Next